Want to achieve greater success in business and life? My book, Become the Fire, will inspire you.
If you're like me, you may not have grown up on the "inside," or you may have had to overcome years of chaos to manifest the life you want. In fact, you still may be trying to get where you want to be. Being on the outside and overcoming chaos are not weaknesses. In fact, I believe being an outsider is a massive strength. 
I'm the Latina founder and CEO of 30Seconds.com, an inspiring digital media platform and vibrant community that make the world a happier, healthier, and more delicious place — 30 seconds at a time.
I'm also the founder of iParenting, a "Best of the Web" digital media company that was acquired by the Walt Disney Company. Most recently, I'm the author of Become the Fire: Transform Life's Chaos into Business and Personal Success.
The book is published by New World Library and the foreword is written by Mary Dillon, CEO of Foot Locker, former CEO and executive chair of Ulta Beauty. As Mary shares in the book: "'Become the Fire' curates the best advice from some of the world's top female leaders. Whether you're just starting your career, are trying to advance, or are an established leader seeking to improve, 'Become the Fire' will inspire you."
I'm no stranger to life's fire. The daughter of a Puerto Rican mother and Yugoslavian immigrant father, I learned to use my "differentness" to make a difference as I grew up in Puerto Rico, war-torn Lebanon, and suburban Chicago. All along, I created what I needed to survive and thrive.
Become the Fire tells my story, but I was curious to share the skills that guided other women on their paths. That's why I also tell the stories of ten other women who have risen to the highest ranks of their careers, using many of the same mindset shifts and skills I relied on to take control of my own transformation. They, too, battled chaos and came out stronger. They, too, used the fire as fuel to propel their success. That's how they, too, became the fire.
Going far beyond whatever I could tell you over a cup of coffee, my book provides mentorship on a broader, more comprehensive scale.
Become the Fire is available on Amazon, Barnes & Noble and Indie Bound, among other retailers.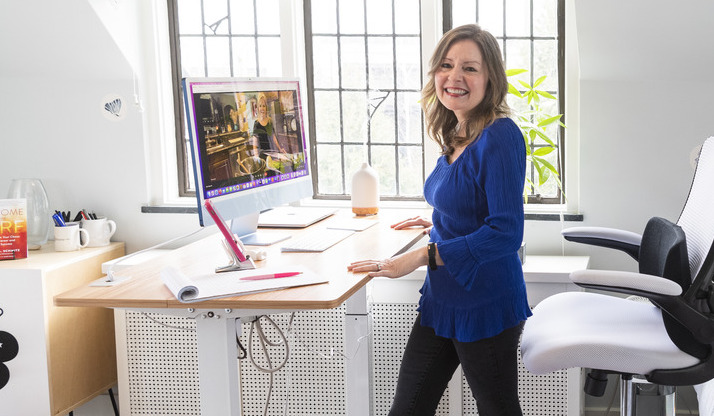 The number one question I'm asked by women who want to succeed is, "How did you do it?" But what they really want to know is, "How can I do it?"
Rather than allowing life's fire to engulf me, I channeled that energy and used it as fuel for my passion and purpose. Rather than focusing on what I didn't have an couldn't do, I focused on what I did have and what I could do. Instead of being burned by the fire, I became the fire.
You can become the fire, too. I'll show you why success in career and life is not dependent on your school GPA, who you know, or how smooth a path you have. It's all about mastering your own transformation. And if I can do it, you can, too.
By joining my community, you will get not only my insights, but also the collective insights from a bold group of diverse women who created extraordinary success. By sharing the lessons they learned along their paths, I'm putting the most inspiring mentors in your back pocket, enabling you to walk the trails blazed by those who have succeeded before you. Sign up for my newsletter so you don't miss a thing.